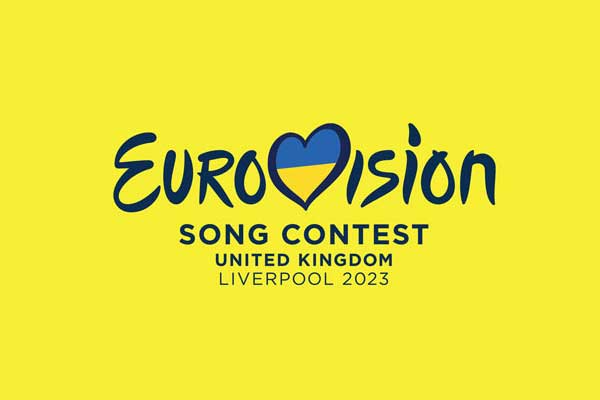 Eurovision
Song Contest 2023 Liverpool
The Eurovision Song Contest being in Liverpool was a near once in a lifetime experience. Our reputation, industry links and the creativity and enterprise of our students and staff meant around 150 students and graduates were able to make the most of this opportunity and play a part in delivering one of the world's biggest TV events and the city-wide Eurovision festival and celebrations.
The Grand Final of the Eurovision Song Contest at Liverpool's M & S Bank Arena was the most watched grand final since modern records began. In the UK alone, the average viewing figure was 9.9 million. Across all the televised aspects including the semi-finals, it's estimated that more than 160 million people watched worldwide.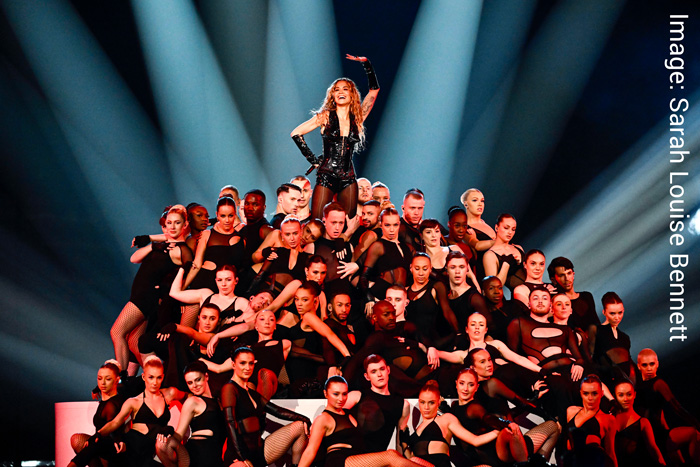 The eyes of the world were, therefore, on our team of 30 dance students and graduates that had been selected to perform as backing dancers in the grand final and the semi-finals.
During the grand final our dancers and graduates were on stage as part of the opening number Stefania - last year's winning song from Ukraine - performed by the Kalush Orchestra. They also performed during the Liverpool Songbook segment featuring six past Eurovision acts and were included in the show's credits under the title of LIPA Dancers.
They also performed during the televised semi-finals, including a performance with Rita Ora. Third-year Chris Vasileiadi says performing to a capacity crowd in the arena was incredible. "The first time we danced to a full audience of over 6,000 people was an amazing feeling. To have my first professional experience as part of something so many people came to see was a privilege. I feel very fortunate."
Another 15 Dance students and graduates were selected as stand-in performers and had been working behind the scenes for several weeks in the lead up to Eurovision. They were tasked with learning the routines of the participating countries and then performing them at the arena for technical rehearsals. Nethra Menon, who's also a third-year, had to learn seven different routines. She says working for the BBC before graduating has helped her development. "To be able to spend time with so many professionals, working with them, observing them. It was incredibly insightful.
"I now feel ready for the professional world. That apprehension is gone. I now know what it's like and I know I can do it."
A week before the grand final the National Lottery staged its Big European Welcome at Liverpool's St George's Hall. Thirty-seven Dance students and graduates worked with dance-circus production company Motionhouse, performing live on stage with Frankie Goes to Hollywood. The performance was broadcast on BBC1, first-year student Mitchell Bellotti says it was an eye-opening experience. "It was a whole new world and realising you have the potential to be able to do that is very exciting.
"I just tried to take in as much as I could. It was a real privilege. It also showed me how many opportunities there are and the whole array of different jobs you can do."
Forty-seven Dance students and graduates (some of whom took part in other Eurovision events) performed as part of the mass participation film, The People's Flag, which Acting, Applied Theatre & Community Drama and Dance lecturer Lisi Perry worked on as one of the choreographers. Twenty students performed as part of a Bucks Fizz inspired flash mob for BBC Breakfast and students and graduates were interviewed by The One Show, BBC News, BBC Morning Live and BBC Radio Four Today programme.
Dance students also choreographed and performed at our European Song Funfest delegates' concert.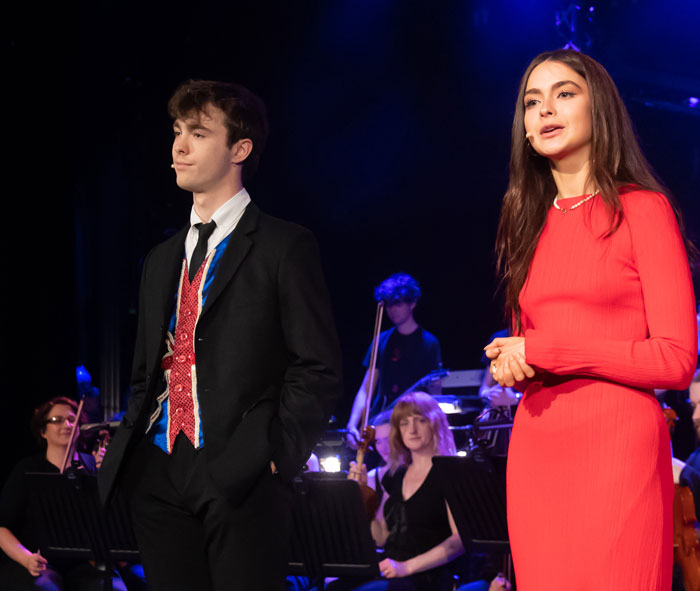 Our Management students made the most of the opportunities around the event with 36 of them involved in a variety of different roles. Second-year Kyra Pugh was an official Eurovision volunteer and was part of the welcome team. Kyra says it was the first time they'd been involved in a global event. "It was unlike anything I've ever experienced. The build-up and atmosphere in the city was amazing, you didn't have to go to the shows to enjoy it.
"To be involved and to feel that shared energy and excitement was incredible and as someone who's passionate about live events, it was great to be part of it."
Third-year Marius Orvain-Mason worked for the BBC, looking after the delegation from French television. "A lot of my work was liaising between the BBC, Eurovision and French television.
"The experience was invaluable from a professional point of view, especially getting used to working under pressure and with groups of people that were changing every day. It was an opportunity to meet and work with so many people from very different professional backgrounds and out of that I have been offered work in France."
Management students also assisted with the running of the Eurovision Village at Pierhead and The National Lottery's Big European Welcome at St George's Hall while others were employed by Culture Liverpool, who ran and coordinated many of the events across the city, and for box office services provided by Ticketmaster.
Our Management students also programmed and ran an evening of live music performed by LIPA musicians at Chavasse Park as part of Liverpool One's Eurovision celebrations and a showcase event at The Cavern Club. They also worked on our European Song Funfest delegates' concert, as well as front of house and event management duties two of the Management students, Anna Kolesnyk who is from Ukraine and Isaac Moore, acted as comperes.
MA Music Industry Management Course Leader Keith Mullin was interviewed by The One Show about Liverpool's music scene for a Eurovision documentary and Head of Management Dave Wibberley was interviewed by GB News, pre and post Eurovision, where he discussed the impact on Liverpool and the contribution of LIPA students.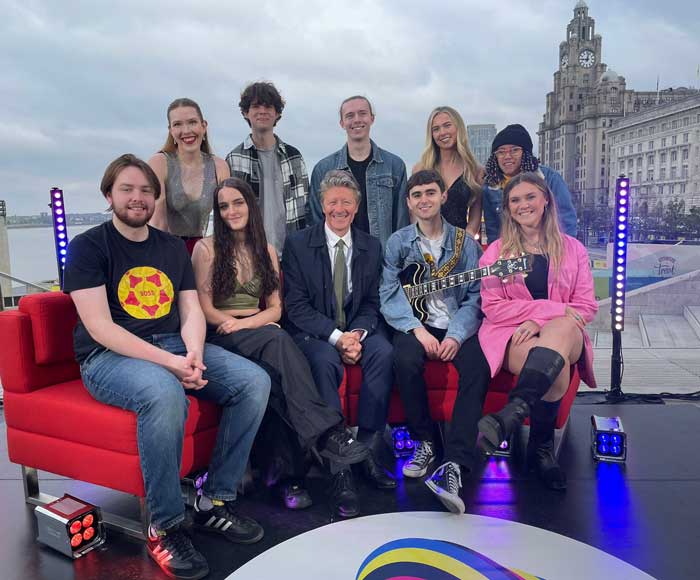 The week before the grand final LIPA staged an official Eurovision event for visiting delegates and press. Called the Eurovision Song Funfest, and pictured at the top of this page, this drinks reception and concert featured LIPA Music students performing Eurovision classics and gems from 11 different countries with the LIPA House Band, Big Band and strings, and LIPA Dancers. There were also special guest appearances from former UK Eurovision contestants Sonia and Jemini.
On the following Monday, we staged a special show by Music students for the Estonia Ambassador, which included a performance with the Estonian entrant Alika. Second-year Music student and guitarist Ryan Chan took part in both shows as part of the LIPA House Band. Ryan says it was an intense experience. "As it was put together so quickly you had to make sure you knew your parts and arrangements, so you were ready when all the performers came together. But it was great fun as the atmosphere at the shows was fantastic."
The LIPA House Band also appeared on BBC Breakfast's pre-Eurovision show from Liverpool. They performed throughout the three-hour broadcast acting as the show's house band. Ryan says it was an experience that will stay with him. "To see how live TV works was incredible. During the programme they were getting us to change the arrangements and bring different elements in.
"They originally only wanted three songs, but we ended up doing six because we had a few extra prepared. The whole learning experience has been amazing. To be part of Eurovision has been a real motivation."
One of our international Music students was interviewed on the BBC One Show and performed along with three other music students.
Our Music students also performed at Chavasse Park as part of Liverpool One's Eurovision celebrations.
Head of the School Music Martin Isherwood took part in the Eurovisions: International Conference at Liverpool Hope University. Martin was on a panel with Elen Rhys from S4C and members of the Spanish delegation and took part in a discussion about representation in Eurovision.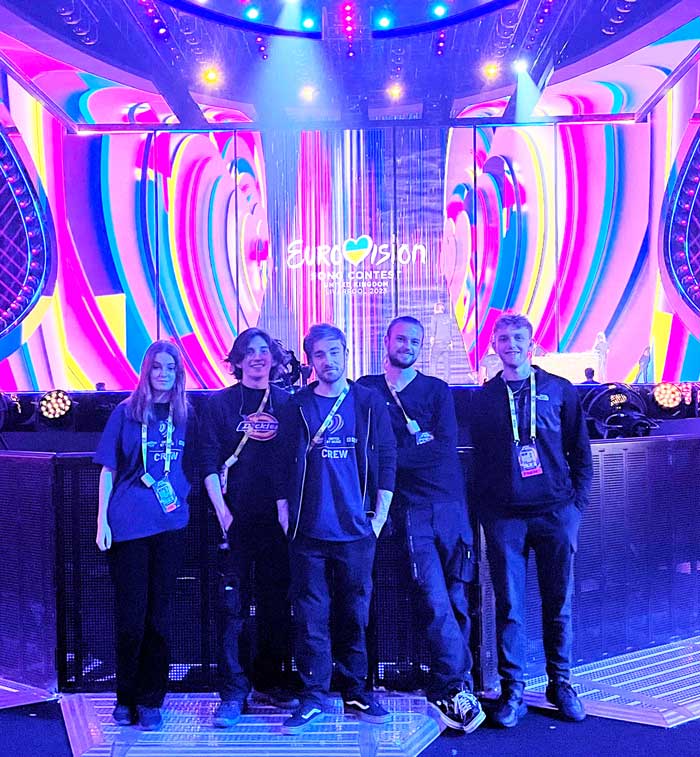 Five of our Sound Technology students worked for the BBC's broadcast sound teams. Based at the M&S Bank Arena for two weeks each student was allocated to a team and given a role. Dylan Williams, who's a first-year, worked as part of the team looking after the dancers in-ear monitoring systems. Dylan says the experience was invaluable: "One of the biggest lessons I learnt was how important trust is. The only way something of that size can work is teamwork. Every single part of the jigsaw was crucial and it's vital you play your part.
"I'd never had any experience of broadcast sound before this but it's certainly an area of interest now. To be in your first year and get the chance to work on one of the biggest shows in the world is incredible."
Sound Technology students also worked on our European Song Funfest delegates' concert.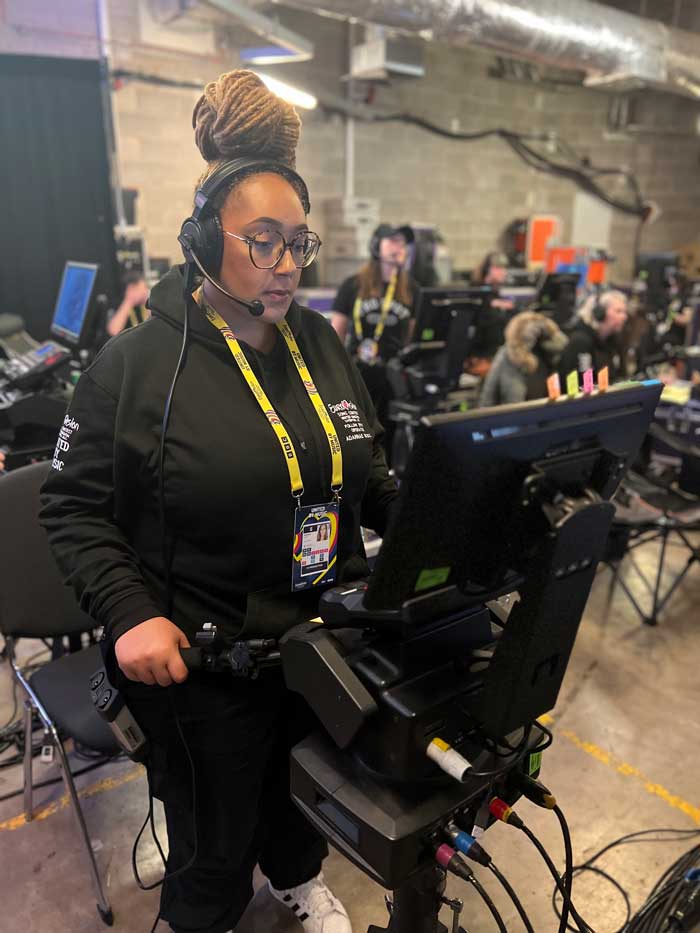 Theatre & Production Technology
Through our contacts with ROBE Lighting and Eurovision Lighting Designer Tim Routledge five of our Theatre & Production Technology students joined Tim's team as lighting interns. Two of the students were involved in programming and the get-in. The other three were follow spot operators. One of the follow spot operators was first-year Adannae Okeke who had responsibility for the stage and catwalk. Adannae describes the experience as, "an insane opportunity, a once in a lifetime opportunity - and life changing.
"It was an intense three weeks but I didn't want it to end. It's broadened my mindset of what's out there and avenues I'd never even considered. I've met people I'd never normally meet and been able to network with them. You never know what that will lead to, who knows where I'll be in five years."
Adannae was chosen by Tim to be one of lighting interns to meet King Charles and Queen Camilla when they visited the arena ahead of the finals.
TPT students also worked as stage managers at The National Lottery's Big European Welcome and our European Song Funfest delegates' concert. They were also interviewed by BBC radio Four's Today programme.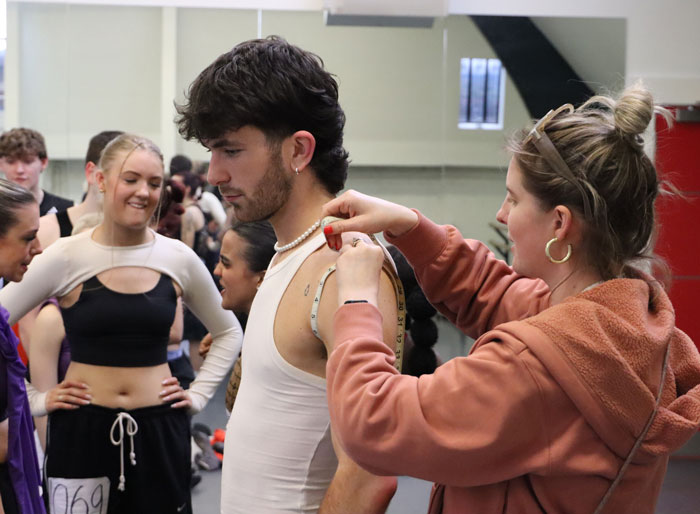 It wasn't only our undergraduates that benefited from Eurovision, two of our MA Costume Making students got to meet the acclaimed costume designer Tahra Zafar, who was in charge of the Eurovision costumes. Her previous work includes the 2012 Olympic and Paralympics opening and closing ceremonies. They assisted when she visited LIPA to meet the dancers who auditioned for Eurovision, taking their measurements.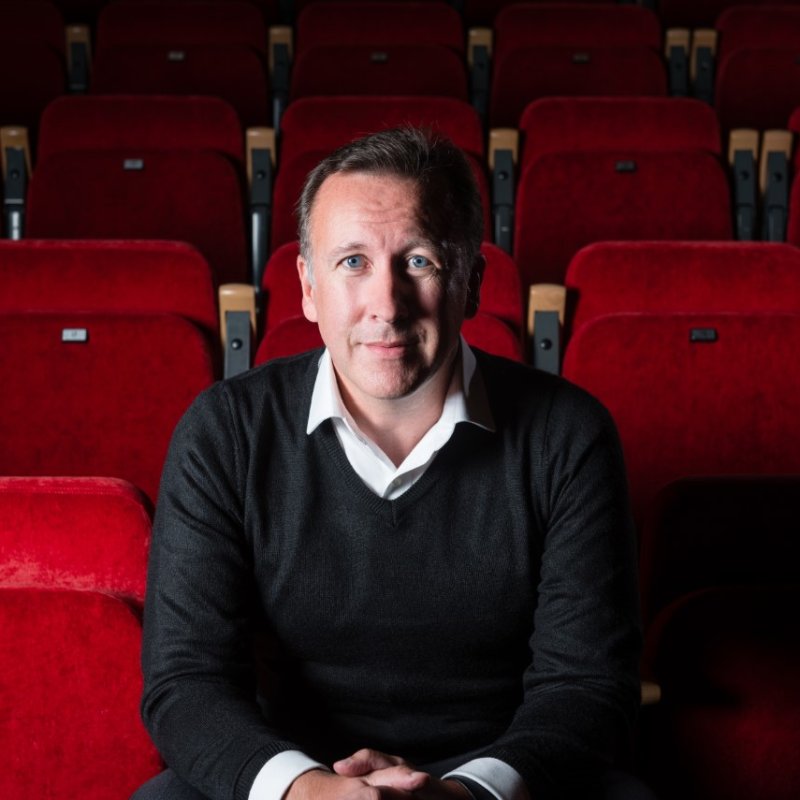 "Eurovision has been a once in a lifetime opportunity for our students. Not only have they been able to support it, but it's been an opportunity to implement and use their training and learning for several weeks on a huge global event."

Sean McNamara, Principal & CEO, LIPA